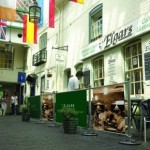 Café's, bars and restaurants can expect a large increase of alfresco diners this summer, as 2016 is predicted to be the hottest year on record. As the seasons start to change and summer sets in, businesses welcoming an influx of customers enjoying the sunshine can make a lasting impression with the range of external signs and banners on offer from PrintDesigns.
As the UKs leading supplier of promotional displays and signage material, PrintDesigns helps businesses across many industries with the solutions they need to achieve excellent branding. It's range of PVC banners, posts and cross arms can help cafes, bars and restaurants achieve maximum visibility whilst providing the means the create an organised outside area for their customers who want to enjoy the warmer weather.
A customised café banner from the UKs leading signage experts can be printed with the logo and branding of any business, to compliment the existing décor. The innovative design means that no tools are required to assemble the banner and graphics can be attached to the framework with out the need for eyelets or hemming, making it a simple and easy to use solution for fast promotional impact.
Mark Thompson, Co-Founder of Printdesigns said, "Having a meal or enjoying a drink whilst sitting in the sunshine is real pleasure that many of us love to enjoy. Cafes, restaurants and bars who prepare for these upcoming summer days and nights will also enjoy the increased profit and customer loyalty that comes from having a great looking and well organised seating area. At PrintDesigns, our café banners can help you to extend your branding beyond your front door, whilst also providing a practical solution for cordoning off the area itself".
Businesses who purchase a café banner can enjoy their versatility, with cross arm accessories also available from PrintDesigns, to extend any setup. PrintDesigns also offer a wider range of external banners, stands and accessories, perfect for making an impact at any larger parties or events that bars and restaurants may host over the summer months.