Curvorama stands are eye catching and truly visual, while being easy to assemble. Printdesigns is the leading stockists of Curvorama banner stands in the UK, so we're experts and love to share our knowledge. We've put together this list of some of the main benefits of the Curvorama displays so you can see for yourself why they are perfect for exhibitions and trade shows.
Versatility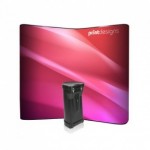 The Curvorama display stand is incredibly versatile in its function. It can be freestanding so it can be used in any environment, or alternatively it can be hung onto a shell scheme wall. With this banner display system you have the power of choice every single time you come to use it.
Expandable
The original Curvorama Aero Kit is big enough for most events – but if not you can easily make it large enough for its purpose. Add more flexible graphic panels for a larger display with ease.
Lightweight
The portable display stand is super lightweight thanks to the lightweight plastic and components. There are also no heavy cases or wheeled trollies to carry around, like there can be with traditional banner stands. This makes the Curovorama one of the easiest stands to transport and set up. You'll get it in your car no problem!
Build quickly
When building a linking banner stand, it can be quite fiddly and stressful to ensure all graphics panels join together neatly and the graphics match. Magnets are usually used to keep each panel in place, but with Curvorama no magnets are needed. Each graphic panel tiles neatly together without the need for magnets, so it's a stress free way of having a professional looking stand and can be built in minutes.
Unrivalled graphics
Arguably the most important element of a banner stand is the graphics. Using the latest digital printing equipment we ensure each graphic panel has maximum visual impact. The artwork design is copied exactly for perfect panel alignment onto non curling polyester film.
If you are interested in learning more about Curvorama, get in touch and our expert team will be happy to help.