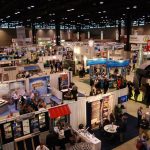 For any marketing professional that has worked over the past 10-20 years, event attendances were a key part of many businesses overall marketing strategy, with the budgets allocated towards this reflecting the importance of this technique. Now, with the rise of the Internet, more businesses are focussing their efforts and budgets towards building a strong online presence for their brands. However, companies must build an integrated online and offline campaign in order to reach their entire customer base successfully and results of a survey reveal that event and tradeshow attendances are a top priority for businesses when allocating their budgets for traditional marketing, PrintDesigns reports.
The study, conducted by Econsultancy, digital marketing experts and Oracle Cloud, an automated marketing solutions provider, revealed that in 2016 33% of respondents questioned had planned to increase their budgets that were allocated towards live events and conferences, with 47% choosing to keep it the same as previous years. This channel was invested in the most by businesses in 2016, with other medias such as direct mail, outdoors advertising and spends on newspapers and magazine adds coming in at 27%, 24% and 19% respectively. PrintDesigns, a leading producer of materials for the exhibition industry, welcomes these findings and prepares to help more businesses as they plan for an increase in trade shows and conference attendances.
Mark Thompson, Co-Founder of PrintDesigns said, "We have been working with businesses marketing departments for over 15 years, and have developed a reputation as being a leading supplier for banner stands and other printed solutions to be used in exhibitions. Through this experience we have quickly learned about the importance and real ROI that these trade shows can bring,"
Thompson continued, "Ultimately, having a great looking booth at an exhibition can create a positive customer experience for anyone that interacts with a company at the show, and it presents an opportunity to build personal relationships, which is unique to the marketing channel. Although personalisation techniques can be used with online methods, the real, tangible human connection cannot be replicated."
Businesses looking to follow suit with these survey trends can browse the wide selection exhibition focussed printed products from PrintDesigns to build the perfect booth. Their huge range on offer includes traditional pop up stands, as well as innovative TEXStyle fabric display stands, all offering a high quality, ultra portable solution at great value for money.