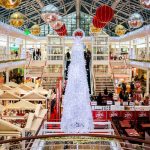 The festive season is a busy time for retailers, and while footfall during this year's Black Friday discount weekend was disappointing for many brick and mortar stores, the unavoidable countdown to Christmas day means that high streets are set to become filled with an increasing amount of shoppers by the day. Digital printing company Printdesigns has the solution to help stores get into the festive spirit, offering a range of Christmas themed cardboard display stands in a range of fun, charming styles synonymous with the holiday period.
PrintDesigns is known throughout the retail industry, providing its solutions to stores of all sizes for over two decades. The printing experts offer a standard turnaround time of between three to five working days, however an express 24 hour service means that shops can obtain the festive finishing touch to their Christmas displays in no time at all. While much of the high-street is already ablaze with the twinkling lights of Christmas décor, it's not too late to get in the festive spirit with a themed cardboard display from Printdesigns.
Mark Thompson, Co-Founder of Printdesigns commented, "Whether you are part of a large retailer or own a smaller store, it is essential to update your interiors with seasonal displays. While these are lots of fun they are also temporary, so using large, bulky solutions can cause problems further down the line. Our festive, cardboard display stands are supplied flat-packed for easy postage, assembly and storage, for an instant update to a store's interior that can be removed in an instant once Christmas is over!"
With seven designs to choose from, the decorative aspect of the selection of Christmas themed solutions from Printdesigns can't be ignored however, many of the products on offer can also be used as P.O.S pieces, with shelving units included to showcase seasonal product promotions. Printdesigns specialises in producing premium, custom-printed materials and this festive range is no exception, available to order with a brand's bespoke graphics printed on each piece.