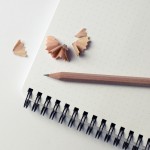 How often have you heard the phrase 'less is more'?
Although these words of wisdom can apply to a wide range of situations, they are highly appropriate when given the task of creating some functional design – for example, when designing your next pop up stand or roller banner when updating the graphics on your exhibition stand.
It can be tempting to want to showcase the wide range of services your business can provide, the multitude of products on offer or even your long and interesting corporate timeline, however this can often result in a cluttered and confusing banner stand.
How can I use simple design?
At a trade show or exhibition, you have a very small amount of time in which you can grab the attention of new business and clients. In order to use this time wisely, keep the design of your banner stand simple. Boil down your business offering to its most basic form, in a way that those who are new to your company can understand in an instant. Then, once you have sparked interest, the finer details of your business offering or services can be presented in a brochure, hand out sheets, or by talking more with those who visit your stall.
Not only applicable to a banner stand design, many huge corporations such as Apple, Coca Cola and OXO are fine examples of how a simple but powerful design can help to build an instantly recognisable brand identity.
Why does it work?
The reason why these brands, and any that consistently use strong but simple design, enjoy success is due to the psychological principal of 'System 1' thinking. This is when the brain works instinctively, processing information on a subconscious level and lowering the amount of cognitive effort required in order to understand the meaning of these messages. Incorporating this principle into your design efforts can help your business at a trade show, by simplifying the purchasing decision or initial interest, encouraging greater interaction with your brand and your exhibition stand.
90% of System 1 thinking is visual, which is why it is so important to consider when designing a publicly seen graphic such as a banner stand. Kick off the process of planning your simple, 'System 1' design by first brainstorming the top 3-5 key offerings, values or vision of your brand/ Once you have identified the most important aspects, then use these, and only these to inform your graphic design.
Has this blog posts helped you in designing your next graphic for your exhibition stand? Have you successfully used simple design when attending a trade show? Let us know your thoughts!