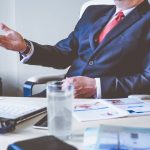 So you've come away from another trade show with pockets full of business cards, arm aching from plenty of handshakes, and cheeks vaguely hurting from all that smiling. Now's the time to turn those leads into sales! Just one problem: where do you start?
Do your research
John Smith isn't going to be impressed if you confuse him with Jon Smythe. Jane Brown's title is 'Secretary General', not 'secretary'. Get it wrong first time and the lead is no longer a lead; they're beating a retreat, in fact.
Get it right, however, and the lead will be flattered to be remembered. Before you do anything else—drafting emails, or sending off LinkedIn invites—make sure you've got the basics down cold.
What type are they?
So, all these people wanted you to have their information.
Why?
You need to define what all your customers need from you, because someone senior in marketing isn't going to want the same thing as a junior sales assistant, even if they work for the same firm.
Define your customer base to send the right messages to the right people, or risk alienating them.
Who's for real?
Let's be honest: some people might have handed over their card because that's what they'd been doing automatically all day, but never intended to buy anything from you or use your services. Some people might desperately want you to solve their problems, and will have been waiting on your message since they left the show.
So, from the initial message you send out, categorise the response. Who deleted the email right away? Who read it before throwing it out? And who emailed back or filled in the form on your website?
The last ones are the easy ones; the others might be more tricky.
Know when to fold 'em
Not everyone will want to use your business, sadly. If they don't care about you, you shouldn't focus all your energy on winning them back if you're letting your more obvious leads go cold. Sure, focus some energy on them, to turn a 'maybe' into a 'yes please!'. Maybe send another email, with a more urgent subject line, or a free piece of valuable content. See what happens to that message.
But don't forget the leads who are keen already exist. And they deserve the bulk of your attention, because they'll be buying from you.