With the conscious consumer trend ever growing, Printdesigns is calling on an increasing number of businesses to take sustainability more seriously. As a B2B company offering a number of sustainable marketing products, Printdesigns wants to see a higher take-up of its eco-friendly range.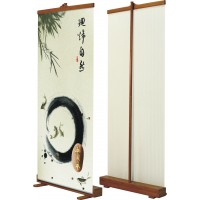 The National Marketing Institute has found that consumers are 58% more likely to buy products or services from a company which is mindful of its impact on the environment and society. Moreover, consumers are willing to spend up to 20% more on products and services which are 'environmentally sound.'
Mark Thompson, Co-Founder of Printdesigns said, "Companies need to realise that it now takes a lot more than bragging about recycling or working with eco-friendly suppliers. Customers need to see that brands are applying a green policy throughout every aspect of their business, and always looking for ways to be even more sustainable."
Being sustainable in all areas of the business extends to considering the environmental impact of attending trade shows and exhibitions. While these are great business opportunities, large corporate events tend to have large carbon footprints, so it's essential that businesses minimise their impact. Printdesigns has released some top tips for exhibitors to be more sustainable.
Mark Thompson said, "The first step of course is to choose eco-friendly marketing materials such as a sustainable display stand. Instead of investing in a PVC stand, it makes more sense to choose a more sustainable material such as bamboo or recycled cardboard, or opt for a fabric exhibition stand. Fabric graphics can be washed and re-used again and again, and when the time comes for a replacement graphic it can be recycled with other cotton textiles. It's also good to make sure the company you buy from don't use harmful solvents in their printing process."
Mark added, "Next ask yourself where you can reduce – do you really need to be giving out leaflets, booklets and other paper based marketing materials? We're in the digital age now after all – it's better to take down email addresses and send information via email."
Last year Printdesigns launched its very own exclusive range of fabric display stands. The innovative TEXstyle range is a modern concept and holds many benefits besides being more eco-friendly than a traditional stand. A fabric stand is super lightweight and easy to transport, and the graphics panel is printed in one piece which removes the need for panel joins.