When it comes to exhibitions, lighting is probably the last thing on your mind. But it shouldn't be, as lighting up your stand can have a huge impact in a large room filled with similar displays. Lighting options can also be a little confusing, so it's a good idea to get it organised well in advance. Here's a simple guide to the choices available to you as pop up stands looks even better when illuminated.
Spotlights and Floodlights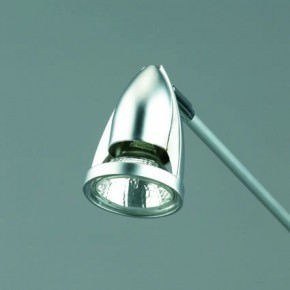 The easiest way to light up a portable display stand is with a spotlight or a floodlight. The spotlights are usually designed to be as subtle as possible, so are often compact enough not to be noticed or block the view of any displays. The PowerSpot 250 is a modern looking, low voltage spot which is versatile and can be used with a range of banner stands, shell schemes and modular panel displays.
For a larger illumination, try our Powerspot LED Pop up Display Stand Floodlight. Rather than directing a small spot, this light has a larger surface area and will light up an entire stand system. As it has an LED bulb, it gives off the lighting of a 200W halogen bulb while only using 20W power consumption.
LED VS Halogen
With many businesses and homeowners trying to be more environmentally friendly, lots of people are switching to LED lights as they are a more sustainable option. They generally provide the same amount of lighting while using less energy, so although they initial cost is more, LEDs offer potential energy savings.
Another benefit of choosing LED over halogen for a display stand bulb is life expectancy – which is 30 times the length of a halogen. There are also two benefits specific to exhibitions:
LEDs are less fragile, so less likely to break on the road to an event than halogen filaments.
Halogen bulbs get very hot, so when packing away exhibitors would have to leave them to stand and cool down for around ten minutes. LEDs don't generate too much heat, so can be safely packed away straight away.
Electricity Supply
Don't forget that if you're planning to use lighting on your stand, you'll have to notify the exhibition organisers and make the necessary arrangements to get power to your stand. There may be an additional charge for this or it may be included in the event participation fee.
Want to take a look at our entire display stand lighting range?