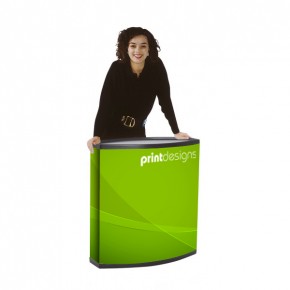 Display stand supplier Printdesigns has officially made a commitment to increase and promote its greener options and become more sustainable as a company. The move comes as huge companies across the world step up their environmental plans, including Apple as it expands into China.
Part of Apple's plans include a commitment to switch to 100% renewable energy. Staffordshire based Printdesigns is following suit, and have recently completed an overhaul of the workshop's entire equipment to ensure it has the latest state-of-the-art printing technology which will speed up production, cut energy usage and reduce waste.
Mark Thompson, Co-Founder of Printdesigns says, "We think it's incredibly important for businesses to take responsibility for environmental issues such as climate change, and we want to lead the way for British companies. Going green takes effort and investment, but can we really afford not to invest in our planet? Simple changes such as promoting recycling, turning off all office equipment at the end of the day and using eco-friendly, ethical suppliers can make a big difference."
Printdesigns is one of the only UK portable display companies which handles all aspects of printing and manufacturing in-house. This gives the company full control over the production quality and reduces the risk of unfairly treated workers overseas. It also allows Printdesigns to introduce the necessary sustainable changes to the production process.
The new fabric pop up displays are a much greener choice for businesses focusing on CSR. The graphics of the stand are printed onto textiles rather than PVC or other non-recyclable materials, while the results remain effective. The graphics panel on the TEXstyle range can also be folded and stored away and even washed with other fabrics, meaning stands will last much longer, and at the end of life stage it can be recycled.
The TEXstyle range is exclusive to Printdesigns, and more and more exhibitors are making the switch to fabric displays.
Mark added, "The textile stands are a far more sustainable choice and we are proud to be the only company in the UK printing and producing these at our warehouse. They look fantastic yet have a much smaller impact on the environment, so we are really going to push these to our customers and hopefully we'll start a fabric revolution."