With branded promotional products delivering one of the best ROIs, Printdesigns is helping businesses across the nation make a lasting impression. The trade show experts offer companies everything they could ever need for an exhibition, including a range of affordable personalised products to be used as giveaways.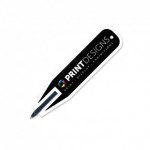 According to the BPMA, 79% of people who had received a promotional product for free said they would be likely to do business with the company again. Additionally, the majority of the respondents (87%) said they kept the promotional item for over a year – extending the advertising reach beyond most business expectations.
Mark Thompson, Co-Founder of Printdesigns said, "The key to getting promotional products right is about finding the right item. Make it useful for your target audience – that's why pens are so popular, because everyone needs a pen at some point. Freebies are a great way to engage your potential clients, so you can make an impact with a relatively low cost."
As a bespoke printing company, Printdesigns offers a custom promotional product service which is ideal for businesses heading to exhibitions and trade events. High quality pens and flash drives are bestsellers, and are known to have a successful impression on visitors at events.
Exclusive to Printdesigns however, is the EXPOBOX trolley. This product is extremely high quality and ensures the freebie stands out from the rest. It is a practical and useful gift, aimed to contain all of the other freebies and brochures collected at a trade event. The flat-packed pull up cardboard trolley can have a corporate design printed on all sides of the box, and it has a carrying capacity of up to 15kg. The trolley is an ideal way for members of staff to carry things around while setting up a booth, and can also be wheeled around conferences to increase exposure.
Mark added, "In terms of giveaways and promotional items, the EXPOBOX is completely different to anything else. It's the most useful thing you can give to visitors at that point in time – it's like a tote bag but with wheels, so it's even more practical. It also has multiple uses around the office or when travelling to presentations or conferences."