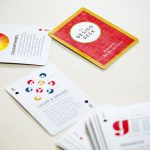 Customer experience is certainly at the focus of Printdesigns' 2017 strategy. Following on from announcing its soon-coming website relaunch, the Staffordshire based wide format printing expert has upped its game further, welcoming back its experienced, dedicated graphic designer. Now, it is able to offer an end-to-end exhibition stand advice, design and printing service, helping its customers gain great marketing results.
Following on from a year away from the office, Printdesigns proudly welcomes back its in-house graphic designer, Heather Picken. This move comes at a great time for the leading exhibition stand printing company, leveraging the improved user experience of its soon-to-be-launched re-designed website and intelligently packaged bundle deals with further industry expertise in the form of graphic design. In 2017, each of these factors helps make every step of the purchasing and production process simple and effective for Printdesigns' clients.
Mark Thompson, Co-Founder of Printdesigns said, "We are incredibly excited to announce Heather's arrival back at our offices. We are proud of the fact that all of our printing is produced in-house, and with her arrival our client's display stand solutions can also be designed under the same roof as where they are printed.
"Heather has formed great relationships with our existing customers through her previous role with us. With a deep understanding of their needs and branding requirements, we look forward to nurturing these relationships further in the New Year, and offering the same expert, dedicated, end-to-end service to our new customers too."
With its factory and offices based in Stone, Staffordshire, Printdesigns has been producing high-quality display stand solutions, covering small printed posted to large format exhibition stands and wall graphics since 1999. Known by its customers for its dedication to quality and customer care, its re-launched website and specialist graphic design service ensures that its online presence mimics its impeccable offline ethos.