As the in-house graphic designer here at Printdesigns, I have recently been contacted by long term customer and local business, the Soup Kitchen, based on Church Lane, Stafford.
Soup Kitchen owner, Duncan Sandy, and his staff have been serving the people of Stafford delicious homemade food and drink for many years and are considered a Stafford landmark!  So I was more than happy to help him with his requirement for a new sign. The sign is to go on one of the entry roads to the town centre, near to the new shopping complex which is obviously attracting lots of new visitors to Stafford. Hopefully the new sign will let the new visitors know where the Soup Kitchen is and what they do.
Duncan sent me a sketch of what he would like on the sign (see photo), utilising his logo, a directional arrow and map of Stafford town. I already had the Soup Kitchen logo on file from previous designs I have produced for them, and I drew a basic but clear map of the town centre showing their location. The design is simple but effective (see photo), and I hope it draws the new Stafford visitors to the Soup Kitchen – it would be a shame for them to miss out on those scrumptious cakes!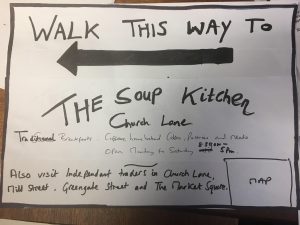 Before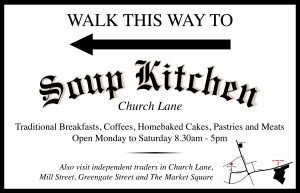 After