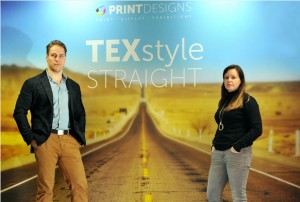 Forward thinking design specialists Printdesigns have started an exhibition industry revolution by declaring fabric as the material of the future. 
The only supplier of fabric exhibition stands in the UK, Stafford based Printdesigns' range of TEXstyle stands are ahead of the curve offering value and sustainability in one product, encompassed by the 'Made in Britain' stamp.
Many companies send part of their printing processes to other areas of the world such as China. Printdesigns are one of the only companies in the UK to own the equipment needed to print and sew fabric display stands.
Printdesigns Co-Founder Mark Thompson said, "Whether businesses planning to attend upcoming exhibitions know it or not, fabric is the future. When we started making these display stands with fabric graphic panels, we couldn't believe that we hadn't been making them like this all along.
"Not only are we the only UK company to print fabric stands in house, businesses can benefit from the plethora of benefits that fabric brings. Not only are our TEXstyle stands eco-friendly, they also don't damage easily, they are more durable. So companies can continue to stand out for all the right reasons, for longer."
1/3 of the weight of a normal exhibition stand, Printdesigns' innovative stands are lightweight, easy to transport and the panels are 100% recyclable; Printdesigns' TEXstyle stands make any business instantly more visible. With no panel joins and other worries that exhibition stands can bring, businesses can focus on reaching customers old and new.
Having been around for decades, many businesses still heavily promote exhibition engineered systems that are out of date. The TEXstyle range makes traditional pop ups look ancient. The one-piece stretch fabric graphic panel simply pulls over a lightweight tubular frame like a sock, making setting up instantaneous and easier than ever.
Mr Thompson added, "There has never been a better time for companies to invest in our range of display stands. Textile graphics are the forward thinking choice, and businesses who choose to make the innovative switch will get noticed as pioneers in the exhibition industry. Not only does it give a flawless finish, it makes stands more durable which is essential for a business that is always on the road."