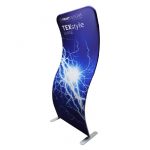 Exhibition experts Printdesigns have released a ground breaking new range of fabric display units, which look to be overtaking traditional roller banners as the go-to product for businesses all over the country.
Printdesigners director, Charlotte Thompson said, "It's easy for brands to get lost in the crowd at big expos and trading events when most stalls are using similar setups. The innovative design of our TEXStyle fabric display stands offers an eye-catching alternative with unique styles and distinctive shapes."
The versatile TEXStyle range comes in a variety of 3D options, designed to cut through the sea of generic displays. There are nine different styles in total; Surge, Straight Banner, Icon, Swirl, Curved Fabric Display, Straight, Fabric Display, Concave, Giant Curved Display and Giant Straight Display.
Options include the statement making TEXStyle Surge fabric banner stand which boasts an attractive S Shaped frame for a welcome alternative to conventional banner stand. The utterly unique TEXStyle Icon is another example of next generation display stands. The double-sided three dimensional banner is available in both curved and angular profiles, making for a distinctive silhouette in even the most crowded of halls.
The TEXStyle system can be mixed and matched and additional graphics swapped in or out on demand to provide a whole new look for each event.
All TEXStyle displays are made from lightweight aluminium frames which can be assembled by hand and covered with a custom-designed stretch fabric in a matter of minutes. The display can be broken down just as quickly and stored in a carry case for use at the next event.