The Christmas shopping season is peak season for many businesses – which means competition is at its highest as retailers fight to be noticed by Christmas shoppers. With Black Friday, one of the biggest shopping days just around the corner, we're sharing our top tips on how to stand out this festive season.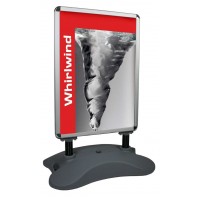 Tell people about your offers
It's definitely not enough to wait until people are in your store to tell them about your festive offers or sales. They need to be tempted in with them! Put signs in the window, use outdoor signage, advertise elsewhere, even put members of staff on the street outside leafleting. You won't even be in with a chance in the high street competition otherwise.
Use other marketing techniques
Marketing has moved on a lot, and sometimes indirect marketing techniques are now a lot more effective than shoving leaflets in people's faces. Simple and free platforms such as social media can quickly get the word out about any special offers and deals you currently have. In a digital society, people are spending more and more time on their tablets and smartphones so appealing to people through Facebook, Twitter and Instagram among others can have a huge reach.
Eye-catching displays
The festive season on the high street isn't always about having the lowest prices. Stores transform into magical wonderlands, with pop-up grottos and giftwrap stations everywhere. Do you know what's really frustrating for shoppers – not being able to find these places! Eye-catching display stands are a must to point people in the right direction in shopping centres and department stores. Think outside the box by utilising different shapes and textures to attract attention.
POS campaigns
The busy shopping season means you can expect queues at the tills. Good news for business owners but boring and frustrating for consumers. Soften the blow with too-good-to-be-true deals available at the point of sale. Make them attractive with colourful POS marketing campaigns.
We hope you have a happy, prosperous peak season!