Businesses are turning to Printdesigns' range of portable solutions to make important meetings and sales pitches more effective and triumphant. With a range of portable pop up display stands, Printdesigns can print a bespoke display which helps deliver an important brand message.
Research into visual aids has shown that many people prefer to learn from images rather than just speech or text. Professor Albert Mehrabian, who has done research into verbal and non-verbal messages, found that 55% of information taken in during a presentation is visual, while only 7% is text based.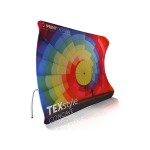 Mark Thompson, Co-Founder of Printdesigns said, "Visual aids are a huge part of engaging audiences and getting them to retain information. Whatever you want to use a display stand for, whether it's to establish the USPs of a product you are pitching or simply to get people to remember your logo, it's proven to work."
Banner stands from Printdesigns are a top choice for meetings as they look appealing in a corner or at the front of the room and are easily transported. Professional looking and practical, the range of banner stands have been a staple product, sold by the company since 1999. Many of the designs are truly versatile and are used at conferences, exhibitions, in retail environments or simply in offices to brighten up the reception area and welcome visitors. The banner stands are also available in a variety of sizes, ranging from small desktop stands to giant two metre wide models.
The TEXstyle range of display stands are also perfect for meetings or conferences which involve travelling. Super lightweight, the innovative stand features a fabric graphics panel, which can easily be folded and transported without creasing. As a one-piece graphic, these stands are also really easy to set up so staff wouldn't have to worry about the fuss of getting the stand up and down.
Printdesigns also offers a cardboard solution which is eco-friendly and recyclable. The Easy Fold Cardboard Display can be flatpacked and simply pops up into the correct shape to become a freestanding 3D display.
Mark added, "We have such a large range of professional display stands that it can be difficult to know where to start. If you need some advice about which product would be best for your meeting and your company, give us a call and we'll be happy to make some suggesstions."