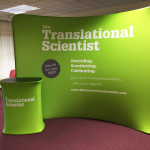 Banner stands and exhibition stand kits are commonly used to aid external communications – displayed in front of the public and key stakeholders in your business. As such, activates such as trade shows, conferences and pop-up events are often prioritized when assigning budgets, helping you to purchase the banner stands you need to spread your message. However, these versatile marketing tools can also be used to improve internal communication within your workforce.
Building relationships with new businesses is important to an organisation's success but so is the relationship between employees and the organisation they work for. Investing in the right tools to build an effective internal communications strategy can drive your company forward by increasing efficiency at work, motivating staff and creating a better working environment. Something as simple as banner stands can help to make this happen, implementing better internal communications.
Sharing new products and announcements
Newsletters and bulletins are often used to aid internal communications, keeping staff updated with company news while reinforcing your brand's message, guidelines and goals. To achieve the same effect, banner stands could be used to spread the large company announcements such as product launches or a new strategic direction, in a similar way to how you would display this information at a trade show.
Encouraging conversation and feedback
As well as ensuring your staff get a first-look at your biggest news, doing so in such a public way is a great way to get authentic feedback. Naturally, a large exhibition stand showcasing your latest product line will encourage conversation, enabling staff to share ideas. These thoughts and feedback can be integral to internal communications, while also helping staff to build a transparent atmosphere and corporate culture.
Welcoming and wayfinding
The practical aspects of banner stands should not be ignored, and they can be used as wayfinding and welcoming tools. Investing in a large, branded banner stand can greet staff as they begin their working day, reminding them of your core values and larger business goals. Similar solutions are can also aid wayfinding efforts, used to direct staff and visitors around your offices, re-iterating your branding every step of  the way.
Improving your internal communications strategy can help to lead a business to success as much as an external one. Banner stands and other exhibition stands can aid these efforts – browse our full range online.