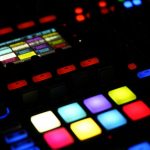 You may not know your brand style off the cuff, but you almost certainly have one. The chocolate bar Galaxy's brand style is one of luxury and elegance; the brand style of ASOS is young, on-trend and professional. Once you know your brand style, and you know how you want your customers to react to it, you can start putting it into everything you do. From email messages to customers to trade show stands and styles, you can communicate everything you need to say without writing a single word.
The minimalistic look:
The minimalist look, that of white surfaces, and a distinct lack of clutter, forces the customer to evaluate the product directly without any other stimuli. Think of the Apple shop; every mistake would show up in such an environment, so the shop is boldly claiming it makes no mistakes.
This look is perfect for a higher-end brand, which focuses on quality and modernity in its products. It also works if there is one particular product, rather than a range, which you're advertising.
Rustic colours and greenery:
Colours like oatmeal or a reddish brown are friendly and associated with farming and the 'natural' life, perfect for naturally-derived products or products which claim to improve health. Adding greenery from real plants gives this brand an air of authenticity, which customers expect to see reflected in the people manning the stall. No stuffy suits here! The people behind the all the greenery and natural fibres should be dressed in hardworn denim or cotton; fibres that have become the de facto uniform of TV chefs concerned with nutrition.
Primary colours and bold shapes:
Brands favouring primary colours and shapes are brands like LEGO, which, although it has a substantial adult following, is mainly for children. The brand that takes this path is exciting in a wholesome kind of way; what you see is what you get. Educational toys often use these colours, too, so brands advertising at a toy fair, for example, should expect a lot of interest.
Dark colours and italics:
Dark colours used artfully whisper luxury and taste, as well as expense. If your brand is a lifestyle one which has ties to homewares or an experience the customer can indulge in, this kind of colour scheme and overall mood can draw curious customers over with ease. This brand is also very unhurried and measured; those manning the stall should be attentive but not rushed.