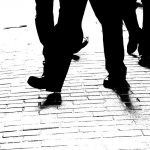 Not all businesses rely on trade shows an exhibitions to draw in new customers, and many retail, food and drink companies need to draw in the passing footfall of customers as they walk past their stores in order to maintain good sales. When based on a high street environment, investing in an outdoor display stand is the perfect way to do this, advertising your great deals and making your offering seem irresistible to those who see it!
At PrintDesigns, we can stock a large range of outdoor display stands and accessories to help with this, all of which can be printed with your custom designed graphics, colours and logo. If you're not sure which type of outdoor display stand is best for you and your business, read on as we list our bestselling styles:
Body banners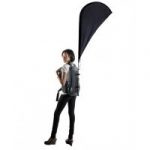 Body banners can be worn on the back like a rucksack, allowing a brand message to be displayed on the move. A printed graphic is attached to a padded harness, coming in a range of shapes with teardrop and rectangular flag options available, as well as panelled designs on thick board. These are popular for corporate businesses, allowing them to attract people to their stand when walking around through a crowd in a busy exhibition hall. This same theory can be applied for retail and hospitality businesses, and are a great way to advertise sales, special promotions and in-store events, getting your message directly in front of your consumer!
Outdoor A boards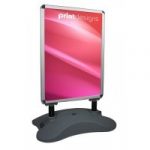 Outdoor A boards are an extremely versatile solutions, and we can supply these display stands with our without graphics. If your business is placed slightly off the beaten track, then these boards can be placed on the busy streets to direct customers straight to your door. They can also be used to display any special offers you have that day, or you could simply just a decorative image on your A board or a cheery message to build your brand message and invite customers in to your business. Using a snap frame to hold your design in place, investing in an A board is a great idea for any business that relies on street trade.
Outdoor display counters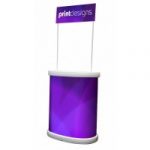 During seasonal times, there is often the option for your business to run a stall at local market, and this can be a lucrative opportunity for food, drink and retail businesses alike. Using an outdoor display counter can give you great visibility at these events, and can be printed in your company colours and logos to draw the customers in as they sample your goods!