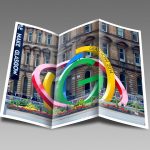 For the last few years the marketing world has been focused online, with many marketers overlooking traditional formats such as display stands and printed handouts as a way to capture their audience. New tools and methods have been developed. Innovative technology like virtual reality, video and social media have been utilised to spread marketing messages. In the midst of all this innovation everyone has forgotten the 'old-school' marketing techniques. Creating flyers, posters and banner stands has been largely forgotten in favour of tweeting, videos and emailing. However, these traditional techniques still work and they should still form a key part of your marketing strategy.
Distribution
Giving flyers out creates an immediate awareness of your brand, products and services. Having a physical flyer rather than an email will stick with the customer for longer because people remember information when it is written down in front of them. If you give people flyers some of them will take it home and stick it on their fridge. This means if they ever need your services or products, you are the most available provider who they can contact without logging on.
Reinforcement
Having the right message in the digital world is great but by replicating it into physical marketing materials you will reinforce the message in customer minds. Giving someone a flyer will make your brand stay at the forefront of their mind and you will be the first call when they need a business like yours. Old school techniques are also better for reaching certain demographics, particularly those who are older and have minimal internet usage.
Good Design
Just like digital marketing, your printed materials need to stand out. However, unlike online, your immediate completion in the physical world is limited. Printed materials do not need any high-tech or forms, click through or moving graphics in order to stand out. This can make them cheaper to produce because you could design them yourself, meaning you don't need to hire a professional graphic designer (although it would be recommended to get some advice from a professional at the start!)
Consistency
It is very difficult to maintain a consistent brand identity and message across all digital platforms. There are fewer physical marketing opportunities, but this means it is easier to generate a consistent campaign. This will further help to establish your brand in the local community which will help you build up a new client base. You can also use your physical marketing products in the digital space to build consistency across both. There is nothing to stop a flyer becoming an email.
Do you want flyers for your business? Print Designs are printing specialists who can design and print your own bespoke marketing materials covering small format items such as flyers, as well as large format printing for displays stands