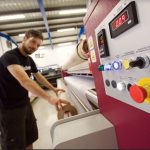 If asked to recall cases of great user experience, wide format printing companies would often be last on the list behind services such as luxury hotels, restaurants or fashion brands. But while many industrial businesses rely on their necessity to maintain a regular stream of consumers, Printdesigns knows that providing premium customer experience is key to keeping up with the demands of the modern market.
This year, the foremost provider of display stand solutions such as roller banners, posters and more will be unveiling its new website, designed to suit the changing needs of its customers. Realistic pricing structures, intuitive search filters and detailed product technical data are amongst the new features of the online platform, differentiating itself from its competitors by putting the needs of its customer first, making it faster, easier and cheaper than ever to buy and enjoy great quality solutions for exhibition stands and other marketing uses.
Mark Thompson, Co-Founder of Printdesigns said, "Gone are the days when the product was all that was needed to attract and maintain customers – the experience and relationship that is formed with a brand is what matters most to any potential consumer. We realise this at Printdesigns, which is why we have upgraded our ordering process to reflect our business values. We want to help you as much as we can when looking to purchase our products and now our virtual platform can make this a reality."
While the updated technical data and streamlined user interface will make the practical process of purchasing display stand products simple, Printdesigns will be adding intelligent bundle deals, pointing browsers in the right direction to related products to help them make their marketing efforts a success. Return on investment is increased not only in the money that is saved through these types of offers, but also with the industry intelligence that will leverage the decision making process.
Mark Thompson, Co-Founder of Printdesigns continued, "Although we welcome visitors to view products in-person at our factory and offices, we realise that personal visits are not always practical, which is why providing the best possible online shopping experience is so important. The marketing and promotional efforts of any company are critical– a great printing company understands this and does all it can to help businesses make the right choices for them."
Printdesigns launches its new website early this year, under its existing web address.
Until then, learn more about Printdesigns and its premium printed products at: http://www.printdesigns.com/
Facebook: https://www.facebook.com/Printdesigns
Twitter: https://twitter.com/printdesigns
Instagram: https://instagram.com/print_designs2000/