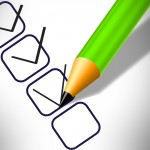 With over 15 years experience in producing sales winning graphics for corporate exhibitions and trade shows, at PrintDesigns we have built up a steady knowledge of the preparations that go into each and every one. Are you about to attend your first trade show? Or are you wondering how you can get more for your money at the next event you have lined up?
Follow our trade show preparation checklist and see if you have asked yourself these questions!
What are my goals?
Like any other corporate task, clear goals need to be outlined so that strategic steps can be planned to help to accomplish them. Before even choosing which trade shows you attend, it is important to be clear as to why you are considering exhibiting at these events in the first place. Maybe you have a new product to launch, you need to re-establish yourself amongst your competition or perhaps you are looking to enter into a new sector and would like to research the market. Each company will have different reasons. Set your goals, and your trade show strategy will become much more effective.
 What are my promotional opportunities?
Most trade shows will have media sponsors, and if not, many industry magazines and media channels will be attending the day in order to seek out the latest developments in your field. Here, these outlets will be actively looking for news to report on, so take this opportunity to arrange meetings with journalists and editors beforehand, to secure coverage of your attendance.
 Is my booth up to date and effective?
Your exhibition stand holds a lot of weight at a trade show. Put simply, it is a visual representation of your whole business, displayed for all to see. For potential customers who are new to your brand, it is a chance to present your offering and show them why you are relevant to them. Out of date display stands, or roller banners with unclear messages printed on them could put off new customers or make existing clients question your credibility.
 Are my staff prepared?
Similar to the first tick point, staff who are manning your booth need understand the reasons why you are attending this trade show so that they can fulfil these goals successfully. Make sure to brief everyone who will be representing your company. Set them key leads to target and give everyone a clear goal and purposes for the day. Doing so can also highlight areas that need to be improved on. For example, you may ask that a report is to be made up of every customer who is approached at the show, but your staff express that they do not have the facilities for collecting this information. Preparing your staff can help the whole company make the most out of each trade show attendance.