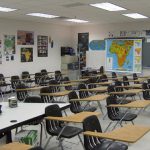 Parents have been preparing children for their return to school this week, kitting them out with new uniform, books, bags and stationary to start the new term with fresh materials to help them with their education. PrintDesigns, the UK's leading provider of affordable printed products, urges educational institutions to renew their materials too, and offers high speed turnaround times on a range of displays and other printed graphics to ensure that schools can refresh their classrooms in the first few weeks of term.
The reliable printing company has been in operation for over 15 years, and in that time it has build a strong knowledge of the needs of its customers. Responding to their needs, it offers a huge selection of customisable printed solutions as well as literature stands, fabric banner stands with Velcro attached graphics and other solutions for the educational industry.
Mark Thompson, Co-Founder of PrintDesigns said, "As well as being a busy time for parents, educational institutions have lots to prepare in the run up to September to get ready for the new term to commence. During this time, it is not surprising that certain tasks such as upgrading classroom displays may have been left aside, with pressing jobs such as planning lessons, logging new starters onto database systems and training members of staff taking priority,"
Thompson continued, "However, refreshing these materials is important, and placing new imagery around a classroom can stimulate and excite the children, rather than presenting them with graphics which they have seen before and are disengaged with. Although term has now begun, we offer a standard turnaround time of 5 working days with an option for express 1-2 day delivery, which means that it is not too late to refresh school classrooms, corridors and staffrooms this September."
PrintDesigns has been producing banner stands since 1999, and is now one of the UK's largest provider of this printed product, offering an extensive range of pop up stands to suit all requirements. With prices starting at just £39.50, even schools on a budget can enjoy the benefits that these vibrant printed displays can bring to their classrooms. The fabric banner stands available are also particularly useful for teachers that like to change their graphics regularly, offering the ability to change the printed material on the stand quickly and easily using Velcro attached graphics.
For receptions, staffrooms or to be used at open days and events for parents, PrintDesigns also supply literature holders that are available in A3, A4 and A5 sizes.
PrintDesigns offer a huge selection of large and small format printed solutions for the educational sector.