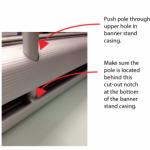 At PrintDesigns we produce a wide range of custom printed promotional materials, covering both large and small formats, but one product that we have become well known for is the humble pop up banner stand. This exhibition stand is one of our flagship products, and is popular amongst our customers as it is great value for money, easily transportable and is a simple way to decorate a small space effectively.  Although these stands are easy to use, sometimes they can be assembled in a way that doesn't show them off to all their glory, resulting in a leaning, less than perfect stand. However, with just a few simple changes your banner stand can rise tall above the rest of the other displays at an exhibition, promoting your brand perfectly!
If you are struggling with assembling your new banner stand from PrintDesigns, read on…
Take your stand out of its case, and twist the feet on the bottom so that they form a strong base. The two feet should be facing at a right angle to the base of the stand.
Take the elasticated pole and slot each section together so that is creates one solid, longer pole.
(Here comes the slightly tricky part) Insert the pole into the hole at the bottom of the banner stand casing. Make sure that the pole is slotted through the large hole in the part of the case that faces upwards, and then passes through a gap (where the pole would normally be stored in the casing) to then be secured in the semi-circular shaped cut out notch that is at the bottom of the casing. When it reaches the right position, you should hear a click.
Securing the pole in the correct positon, with the feet pulled out at the right angle should mean that you have a strong banner stand, with only a slight backward angle leaning.