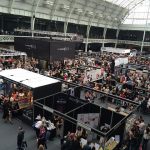 Trade shows are a necessity for almost any business, whether you work in education, for a local authority, or in retail. And if you're there, you can bet that your competitors will be there too, eager to vie for customers with you.
You can't do anything to affect perception of your competitors' brands. The only thing you can affect is your own brand; how it looks, feels, and presents itself to its audience.
Advertise to your clients that you'll be there
If your clients like you, they'll want to know that you'll be at a trade show close to them. Let them know they can meet someone they've previously only spoken to via email or phonecall before. Corporates will typically book for many of their staff in one block a month or so before the show, so time your advertising there if you work B2B. Retail customers are a trickier bunch, and you should check your customer research to figure out when's best to contact them.
Make your stand interesting
A minimalist stand in pure white and just one thing on the table is interesting; so too is a stand which has exploded in plenty of colour. Make your stand interesting to look at, and then make sure that the people manning your stand are interesting to speak to. People who look interested in speaking to others will attract more potential customers. Make sure any information you have on hand, like leaflets or brochures, are fun to look at and use too. If you miss this critical step, people will pick up your information and never read it.
Back up your claims
It's easy to claim that you have plenty of top-notch clients, they are all pleased with your work and would buy from you again. But it's worth having information that backs this up. Not only does displaying this make your company more credible, it also makes for a handout you can give out and make people remember you.
Focus on your strengths
If your company is excellent at infographics or animations, make sure you have a plan for a big screen where these can be viewed by customers who come to your stall. If you know your failure is in writing snappy slogans for your trade stand, don't try. It's always better to succeed than try but miss the mark when you're presenting to customers.