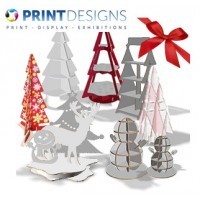 For buildings which need injecting with a dash of festive spirit, Printdesigns' Christmas cardboard displays are just the ticket. Ideal for offices, shop floors, schools and just about any other indoor setting, the engineered cardboard displays provide a unique way to celebrate the festive season.
Revellers can choose between a range of Christmas trees, a snowman, and a wintry scene montage including a reindeer and a Christmas tree. Businesses can really put their stamp on the decoration by having it printed with a bespoke design. From company logos to festive images, people can get creative and have absolutely anything printed on to the cardboard free of charge.
Mark Thompson, Co-Founder of Printdesigns said, "Forget the boring office Christmas tree and ancient tinsel which comes out of the storage cupboard every year looking worse for wear. Swap the outdated décor for some modern Christmas decorations which can be recycled after the holidays are over, or folded up ready for next year. With a bespoke design printed onto the cardboard, it's also a great opportunity for some festive branding in retail environments."
The Christmas themed cardboard displays have been engineered by Printdesigns using Re-board. This Swedish product is a paper based board with a unique engineered core, making it incredibly light but exceptionally strong. It's the strongest type of cardboard available in the market, and it's also 100% recyclable.
By choosing a contemporary Christmas display, companies will have the option whether to keep the display for the following year or dispose of it appropriately. As the Re-board displays are made from biodegradable materials, it is super easy to break down and recycle with the regular paper and cardboard recycling. Each display is supplied flat packed for easy self-assembly and deconstruction.
Mark added, "Not only are these displays great Christmas decorations, many of them serve a dual purpose as they have built-in shelves. This has endless opportunities for festive promotions, product displays or a convenient place for everyone in the office to put their Secret Santa presents!"
The eco-friendly cardboard can be printed with any bespoke design including business logos, photographs and other graphics. It's a creative and interesting way to attract attention and spread festive cheer throughout a building.