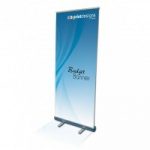 If you work in marketing, it is likely that you have attended as many trade shows as you have exhibited at. If so, you're probably familiar with the roller banner, a popular choice of display stand used by businesses across the world, regardless of industry or sector. We've been producing premium quality roller banner stands since 1999, making this flagship product a truly 'heritage' item in the world of exhibitions and trade shows and yet, it is showing no sign of slowing down and is still a common site throughout the trade show landscape. Quite simply, roller banners are a reliable, robust and great value display stand solution, making it the 'go to' product or every exhibition stand. Here's why:
Simple to store and transport
Many businesses often plan a busy schedule of trade show visits throughout the year, meaning that their trade show products must be easy to transport from conference to conference, on all forms of transport. After they have been used, a roller banner retracts into its base with a spring-tensioned mechanism. As the graphic is kept in the hard, plastic base it is protected from damage while the small, smooth shape is easy to stack and store in even the smallest of places.
Quick to set up and take down
The spring mechanism that makes roller banners easy to store also make the set up and take down process much a simple task. To set up, the graphic just needs to be released from the base and secured using the pole that comes with the stand. When done, the pole simply needs to be dethatched so that the banner can be rolled back into its base, ready for next time.
There are many options available
While the simple to use format and mechanism always remains the same, roller banners are versatile and can be produced in a variety of textiles and variations to suit particular requirements. Giant banner stands can be made to fill larger booth spaces, while double sided roller banner stands can also increase a brand's visibility when placed in appropriate environment. Bamboo banner stands help brands comply with ethical guidelines, while fabric banner stands come with interchangeable, detachable graphics, increasing the versatility even further.
Versatile, easy to use and great value for money, the roller banner will forever remain a staple solution at exhibitions around the world. Browse our full range online and discover the benefits yourself at your next trade show!