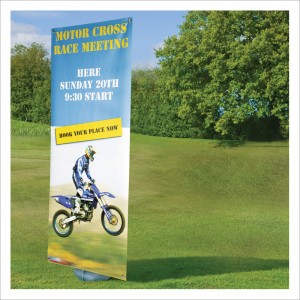 When it comes to choosing an outdoor display stand, you'll need to hold your options to different standards. You might base your indoor purchase decisions on how cost-effective a stand is, or how professional it will look – and these factors will certainly come into play when choosing an outdoor version – but there are also some extra considerations that you'll need to make before you invest in an outdoor exhibition stand. Take a look at some of our tips and things to look out for when you're purchasing outdoor exhibition materials:
Waterproof
We all know the British weather simply can't be relied upon to provide us with day-long sunshine – there's always the risk of a traditional shower to liven things up! If you're exhibiting outside, you'll need to make sure your stand will be able to resist a few drops of rain. The banners themselves should feature waterproof ink, to make sure that your beautiful promotional images don't finish the afternoon smudged all over the canvas.
Wind-resistance
You'll also need to make sure your stand won't cave at the slightest gust of wind. Many banner stands come with the option to weight the base with sand or water, to keep it firmly in position – and you should also look for a stand with some kind of A-frame support, to keep your banner perfectly tensioned and looking fantastic.
Colour contrast
In the (unlikely) event that Britain actually experiences some good weather, you'll need to ensure that your banners are still as vibrant and noticeable as ever. Many people will be reaching for the sunglasses when the weather brightens up, so try to make sure your actual images have plenty of contrast and can still be spotted from twenty paces.
Collapsibility
Picture the scene: you've been enjoying a great day at an outdoor exhibition, you've secured plenty of leads, but the ominous grey clouds overhead have been growing thicker, and the first drops of rain have started to fall. It looks set to be a storm of epic proportions – so you'll need to be able to pack up your stands within minutes and head for the nearest shelter. When choosing an exhibition stand that will be primarily used outdoors, you should always consider how long it takes to assemble and take down – you don't want to be the last one out on the forecourt struggling with your banners while the rest of your gear gets soaked!