Display stand experts Printdesigns are looking forward to a very exciting New Year, as they plan to introduce a host of new innovative products, make the way for interesting collaborations and launch a brand new website.
Printdesigns is already known for being one of the most forward thinking companies in the exhibition stand industry, and in 2016 the company plans to go one step further. After completely re-inventing fabric display stands, it will now be retailing a revolutionary fabric display stand which can be reconfigured into different shapes and sizes. Designed by Swedish supplier Expolinc, the one piece fabric graphic stand is totally adaptable and brings yet more options to UK exhibitors.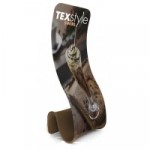 Mark Thompson, Co-Founder of Printdesigns said, "At present our fabric displays are very popular but they are only available in 'off the shelf' sizes. The modular systems we use all still employ traditional rollable panels, so having a more versatile display that can be adapted in shape and size is really exciting for us.  It's great to be able to offer an exclusive product which is practical and offers great value for money."
Earlier in 2015 Printdesigns launched its own range of TEXstyle fabric stands, which received a great response from businesses and exhibitors. Using fabric panels has many advantages, including being ultra-lightweight and an extra-long shelf-life due to them being machine washable. The fresh design has also been a big hit with customers, as it looks completely different to a traditional display stand so stands out from the crowd at trade shows.
The company is also set to announce a deal with another overseas brand, making Printdesigns the official UK dealer of its display stands. No details have been announced as of yet but indications are that there will be more exciting news to come.
Additionally, the new website is currently in development and is expected to be launch early 2016. With a brand new design and a host of new products, Printdesigns.com is going to be the one-stop shop for all your exhibition needs.
Mark added, "2015 has been an incredible year for us, and it looks like 2016 is going to be even better. We're thrilled to be in a position to retail exclusive brands and become official dealers for brilliant products which we know our customers will love."