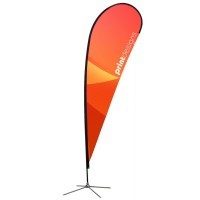 Spring has sprung and summer is on the way, which can only mean one thing for the events industry: outdoor events season. From music festivals and village fetes to student fresher fairs and outdoor exhibitions, summer is the peak season where exhibitors and visitor numbers rocket. The UK's leading display stand provider, Printdesigns, is on hand with a plethora of outdoor display stands for the nation's al fresco events.
The key to planning external events during the British summer is preparation, preparation, preparation, as Co-Founder of Printdesigns Mark Thompson explains:
"Outdoor events can demand even more planning than a regular exhibition or trade show, as you have the weather to contend with. People think it is only rain which can wreak havoc at an outdoor event, but a particularly windy day can be even worse – organisations need to make sure they have a sturdy, durable pop up stand to take on all eventualities."
Event organisers can probably advise businesses of a back-up plan if wet weather does insist on ruining the event – marquees and gazebos are usually involved, or there is an indoor base nearby. Outdoor signage solutions need to be practical and allow for rapid assembly and de-assembly should the weather threaten the event. Moreover, stands need to be robust and designed with external conditions in mind.
From outdoor A Board Stands to Feather and Tear Drop Flags, Printdesigns have made sure outdoor exhibitors have a wide range of solutions to choose from. The selection of eye catching, attractive and durable stands have been specially created for the great outdoors, so whether companies are camping out at a festival or showcasing their wares at an outdoor market, Printdesigns have a solution for every budget.
Mark added, "We're really excited for the outdoor events season; it's one of our busiest times of the year and we enjoy helping businesses, charities and individuals find the solution they need. We have our fingers crossed for all of our customers, but do make sure you plan ahead for all circumstances where the British weather is concerned!"